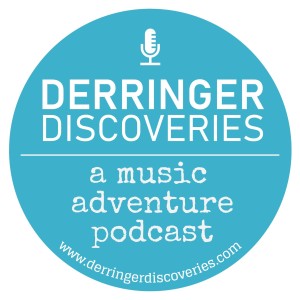 Wednesday Nov 24, 2021
Lord Huron – Indie Folk's Creative Under-the-Radar Juggernaut (Episode 25)
For a band that has had such a large impact on pop culture for the last decade, Lord Huron has remained under-the-radar of many music listeners. Starting out in Michigan as the brainchild of Ben Schneider, a multi-talented artist, Lord Huron has become a hugely influential indie rock band whose music has appeared in numerous films, commercials, television shows, and in series for NBC, The CW, Netflix, HBO, and Showtime. Their songs have also appeared on music charts worldwide.
Based out of their own Whispering Pines studio in Los Angeles, California, Lord Huron – now composed of Schneider and his former high school bandmates – continue to generate wonderfully inventive music. Accompanied by Ben Schneider's artwork and multimedia creations such as the collection of live-streamed shows called Alive from Whispering Pines, the band takes us on a fictional journey into the storied past of Whispering Pines studio and music from a bygone era.
In this Derringer Discoveries episode, the Derringer Brothers – Alton and Paul – explore Lord Huron's latest album, Long Lost, and share their favorite album tracks. They'll also share their thoughts on whether Lord Huron has taken their latest concept album too far. Did they Jump the Shark? Did they Cross the Rubicon?  You'll have to listen to find out.
Be sure to stick around for the Post-Episode Bonus where Paul and Alton introduce you to a talented singer-songwriter named Katie Tich (pronounced "tish") out of Baltimore, Maryland. Katie was kind enough to join the Derringer Brothers for an exclusive interview where she shares how she got her start in music and provided insight into her heartfelt and emotional lyrics.
Katie's songs have appeared on the Derringer Discoveries curated playlist, the Turnip Music Radio (TMR) - Top 25. The TMR Top 25 consists of the latest compelling songs that the Derringer Brothers find to be some of the best music worldwide. The chart is updated monthly, so be sure to click "like" and check back often to hear the latest finds by Derringer Discoveries!
If you hear a snippet from today's episode that you want to explore further, all the songs, except for one, can be found on the accompanying Spotify playlist, Lord Huron – Indie Folk's Creative Under-the-Radar Juggernaut. Be sure to listen to this episode to find out which Lord Huron song Paul Derringer dislikes so much that he refused to let us include it on this playlist.
Please visit the Turnip Music Radio (TMR) Top 25, a music chart by Derringer Discoveries, available on Spotify. Updated monthly, this chart reflects our current 25 favorite, new songs by recording artists worldwide with a focus on fresh folk, adult rock, alternative rock, rock & roll, and power pop. Click "Like" (the heart icon) to follow the Turnip Music Radio (TMR) Top 25.
The Derringer Brothers want to hear from you!  Send us your feedback at feedback@derringerdiscoveries.com – you may hear your comments read on a future episode of Derringer Discoveries!  Keep listening!
Please be sure to subscribe to Derringer Discoveries. This lets the providers know that you enjoy the content and look forward to future episodes. Be sure to tell your friends, family, and fellow music-lovers about our podcast.
Your Sister's Room by Ho Jo Fro is the theme song for Derringer Discoveries and is available for streaming on most platforms.
Comments (0)
To leave or reply to comments, please download free Podbean or